Financial Development & Achievements Highlights
There has been an increase in:
Gross Income > more than four time.
Corpus Fund > Eighteen times.
Earmarked funds > more than one and half times.
Immoveable assets > by four times.
Other Assets > by one and a half times.
Donations > by five times.
Investments > by one and a half times.
The above achievements have been due to the persistent efforts by the dedicated team of Trustees looking into the day to day management by regular visits and discussion with professionals and long time devotees/ families as also inspired sponsorship by devotees.
The Financial Development Achievements have been possible due to:

Opening of the inner sanctum Samadhi Shrine for Darshan twelve times in a year.
Offering Maha Puja Abhishek to Bhagwan Nityanand
Various yagnas performed during the festivals
Providing affordable accommodation to each class of devotees with their families for their comfortable visit.
Providing subsidized, clean and hygienic food in Annapurna.
Performance Report of Trust 2009 - 2014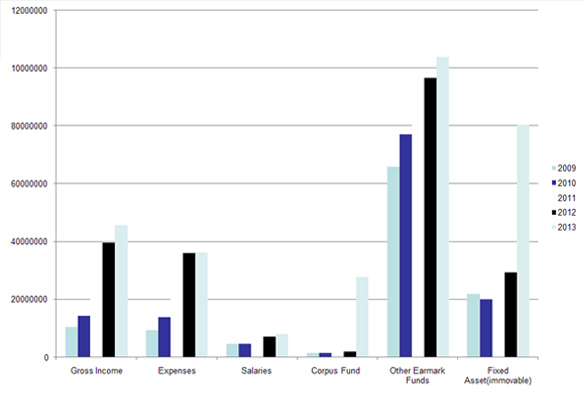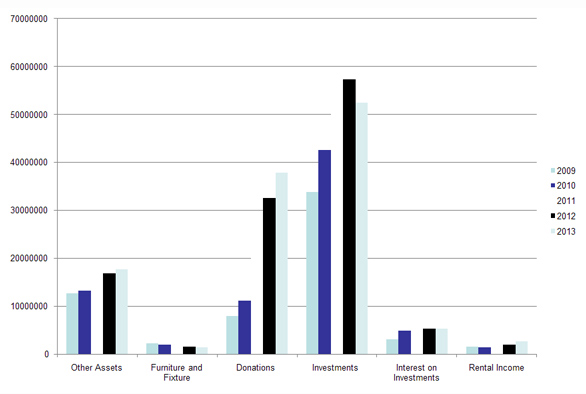 Governor's Visit in 2011

Guest and Dignitaries:
Honorable Shri Shankar Narayanan Governer of Maharashtra
Honorable Shri Suresh Shetty (M.P)
Honorable Shri Baliram Jadhav (Khazdar)
Honorable Shri Vivek Pandit (Amdar)
Honorable Shri Suresh Towre (Khazdar)
Honorable Shri Gopal Shetty (Amdar)
Future Projects
The Trustees plan to complete both their prestigious projects as soon as possible
Hospital Project with modern facilities and bring in experience Doctors by having a tie up with other hospital in Mumbai such as Nair Hospital KEM
Hospital and Baba Hospital. Trustees ambition is to bring in good medical facilities for people living in and around Tansa Valley.
The Bal Bhavan too is a very special Project for the Trustees as it concerns the children. The Bal Bhavan and the Bhandara building will be fitted with state of art kitchen equipments and the bal bhavan part with all modern facilities for the overall development of a child.
To build a museum with the help of Heritage Consultant so as to preserve and display articles used by Bhagwan Nityanand in his life time.
Proposed Kitchen Equipments for the Bal Bhojan.